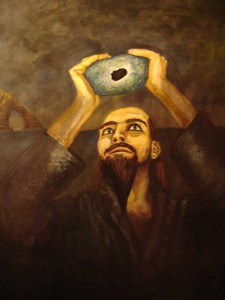 Picture is of a painting by © David Hutchinson
The Brahan Seer known as Kenneth MacKenzie or in Gaelic as Coinneach Odhar was a prophet from the 17th century.
He is thought to have come from Uig on land owned by the Seaforths, however he is better known for his connections to Brahan Castle near Dingwall and the 'Bonnie' Black Isle, a peninsula near Inverness.
Legend has it his mother had 'the sight' and one night when ghosts roamed free she came across the ghost of a Danish princess. To allow the princess to pass back into the grave his mother demanded a form of payment. This was to gift Kenneth 'second sight'. Story has it that later that day kenneth found a small stone (Adder stone) with a hole in it and looked through this to see his visions. Many of his prophecies came true and were so impressive that they are still quoted today!
It was a simple prediction that led to his death. Whilst working for the Seaforth's he predicted the absent Earl of Seaforth was having affairs with several women in Paris. Whilst highly unlikely it brought embarrassment to Lady Seaforth which resulted in her ordering his death. It is alleged at Chanonry Point he was burnt in a spiked tar barrel!
Some of his prophecies were –
One day ships will sail round the back of Tomnahurich Hill – the Caledonian Canal was built
He predicted that when there were five bridges over the River Ness in Inverness that there would be worldwide chaos. In August 1939 there were five bridges over the Ness and on September 1 the same year, Hitler invaded Poland.
He said that when there were nine bridges over the Ness that there would be fire, flood and calamity. The ninth bridge was built in 1987 and in 1988 the Piper Alpha disaster happened.
According to Alasdair Alpin MacGregor's The Land of the Mountain and the Flood, the Brahan Seer predicted that the bridge over the Kyle of Sutherland at Bonar Bridge would be "swept away under a flock of sheep". On January 29, 1892 the Bridge was swept away by a flood. Eyewitnesses "likened the foam-current to a densely packed flock of sheep".
To this day there is fear his predictions will come true. A Celtic stone, the Eagle Stone, stands in Strathpeffer, Ross-shire. The Seer said that if the stone fell down three times, then Loch Ussie would flood the valley below so that ships could sail to Strathpeffer. The stone has fallen down twice:  it is now set in concrete.
Various tours I provide visit the Brahan Seer stone, which is located at one of the best places in the UK to spot dolphins.
Tour the Bonnie Black Isle with me and visit fantastic locations such as this!