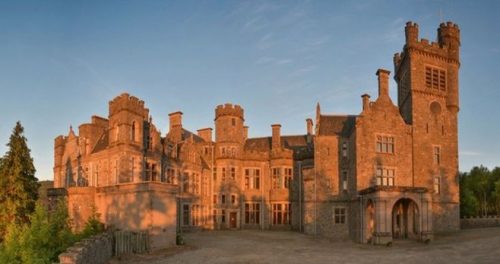 Carbisdale is an area situated in Sutherland, in the north west Highlands.
The battle of Carbisdale took place in 1650. The Marquis of Montrose was defeated at Carbisdale by the Covenanting Army. He escaped from the battlefield and tried to reach safety in Orkney, however he was taken prisoner at Ardvreck Castle and taken to Edinburgh for execution.
Carbisdale Castle is situated on the Kyle of Sutherland looking over the railway bridge and road. It was built in Scots Baronial style, with some Tudor influences, between 1906 and 1917. It was built by the Duchess Blair, who was originally the mistress and later the second wife of the 3rd Duke of Sutherland.
When the Duke died at Carbisdale Castle there was a dispute over the terms of his will, resulting in the Duchess spending time in Holloway Prison because she destroyed some of the papers. The Duke left her his fortune and estate for life but the will was eventually disputed by his son and heir, who was the son of his first wife. Eventually the Duchess gave up her claim on receipt of a large sum of money , which she then used to build Carbisdale. She took some furnishings and pictures with her to Carbisdale and died in 1912 before the house was finished. Within the castle can still be seen the magnificent wooden staircase and marble statues along with other furnishings and pictures from Dunrobin Castle.
Carbisdale Castle was built in a style to rival Dunrobin and is very imposing with towers and battlements. Unusual female figures can be seen on the rainheads and on the castle itself. The clock tower does not face Dunrobin because the Duchess did not to give the new Duke 'the time of day'.
During the second World War, King Haakon the 7th of Norway lived there, whilst it was owned by the Salvesens, a whaling family. It was later gifted to the Scottish Youth Hostels Association, making it possibly the most elaborate youth hostel in Scotland. 2014 saw it put up for sale and although potential plans exist to convert it into a luxury hotel, it's future hangs in the balance.
Whilst in the area why not visit a castle in the Scottish Highlands.