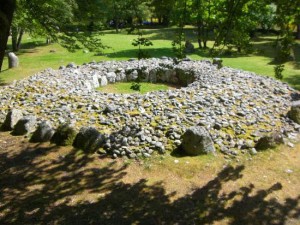 Properly known as 'Prehistorical Burial Cairns of Balnuaran of Clava' the Clava Cairns are situated in a wonderful wood setting about a mile from Culloden Battlefield. A Clava Cairn is type of bronze age circular chamber tomb cairn named after the group of three at Balnuaran of Clava.
The cairns at Balnuaran are very well preserved and date back to 2000BC. The three cairns form a line running north east to south west, suggesting a focus on the mid winter sunset. Two types of cairns exist and both can be found here.
The north east and south west cairns are known as passage cairns, the inner chamber linked to the outside world by a passage. You notice a drop in temperature when standing at the center! The middle cairn is a ring cairn with no passage linking it to the outside.
The ring cairn has kerb stones around the outside, with paler stones facing north east and reddish stones facing south west. The two passage cairns have surrounding circles of standing stones, graded in height with the tallest facing south west. The passage ways of the of the two outer cairns point south west and on the shortest day of the year as the sun sets it shines along the passage way hitting the back of the chamber. This provides more evidence of a focus on the mid winter sunset or more precisely the winter solstice.
The site was excavated in 1990's but no evidence of bodies was found. It was not a surprise as the cairns usually only contained one body, indicating the person must have been important.
The Clava Cairns are an excellent place to visit especially at sunset around the winter solstice.
Highland Tours Inverness provides three tours visiting the Clava Cairns, but this is a great destination that can be included in any tour.
Loch Ness and Scottish History Tour
Outlander Tour – Visit Simon 'The Fox' Fraser