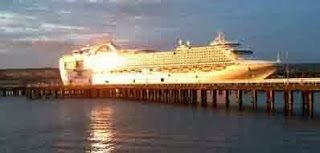 A huge thank you to all customers who enjoyed  Invergordon Shore Excursions with me during the 2015 cruise liner season. I had great days with you all and look forward to welcoming more visitors in 2016.
The Cromarty Firth Port at Invergordon has been used since the 18th century. Initially by the Royal Navy and in recent years the port has benefited from the oil industry and tourism.
It has an excellent track record for handling cruise liners with up to 3,500 passengers, the ships weighing up to 112,000 gross tonnes. The picture above shows the biggest liner called the Crown Princess arriving, the early morning sunrise reflecting off it. They can enter the port even at low tide so schedules can be planned and maintained. Watching these huge liners arrive and then turn themselves around on a six pence never fails to amaze.
Invergordon is an excellent location enabling the visiting passengers to enjoy the historic and scenic attractions including Loch Ness, various castles, distilleries and golf courses. Pipe bands and traditional dancers welcome passengers off the ship.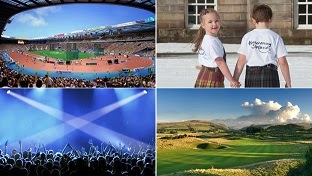 Highland Tours Inverness looks forward to welcoming passengers during the 2016 cruise liner season.
Book your Invergordon Shore Excursions now for 2016, places filling up fast!